The specific aims of our project, "Alcohol Brand Research Among Underage Drinkers (the

A-BRAND

project)," are:
To determine alcohol brand preference and brand-specific consumption patterns of underage youth (ages 13-20) among a nationally representative sample of underage youth.
To determine the brand-specific exposure of underage youth to alcohol advertising in magazines and on television.
To determine the relationship between brand-specific alcohol advertising exposure and brand-specific alcohol consumption among youth.
Alcohol use among adolescents is a major public health problem. Despite slight declines in the past decade, past-month alcohol use among high school seniors in 2008 was 43.1%. Adequate surveillance of youth alcohol use is essential to identify the causes of youth drinking in order to plan interventions that will prevent its consequences. Examples of established risk factors for youth drinking include price, availability, and family and peer drinking. Marketing is another potentially important contributor to youth drinking. In 2005, the alcohol industry spent at least $4 billion in advertising and promotional expenditures, much of it in media venues in which youth comprise a disproportionate share of the audience. Even so, studies on the effect of alcohol marketing on youth alcohol consumption have been inconsistent.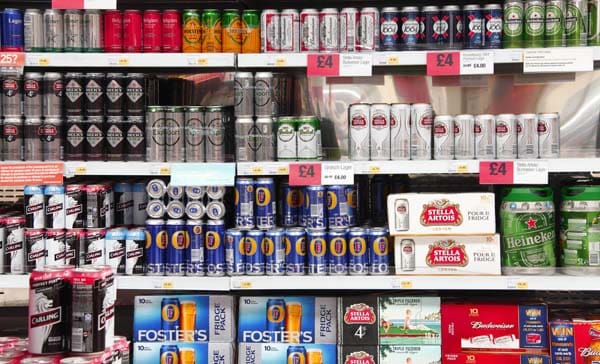 One possible reason for the inconsistency in the existing literature is that virtually all previous studies examining the link between alcohol advertising and alcohol consumption have investigated patterns of total (brand-aggregated) alcohol advertising and consumption even though alcohol is advertised at the brand-level (e.g., Bud Light, Miller High Life, etc.) and youth exposure and consumption vary widely by brand. Lumping all brands together—including those to which youth are hardly ever exposed or hardly ever drink—produces an averaging effect that would dilute out the observed effect of advertising for a specific brand if its advertising were truly influencing youth. In fact, the Institute of Medicine noted this serious flaw in the existing alcohol research literature in 2003 and recommended the collection of alcohol brand preference data from underage drinkers. To date, however, there are no available national data on youth alcohol brand use. This proposed study aims to fill this glaring deficiency in our understanding of youth drinking behavior by conducting the first national survey devoted to collecting youth alcohol brand preferences. While we recognize that alcohol brand preferences among youth may change over time, this project will provide a snapshot of youth alcohol brand preferences that we will link with contemporaneous and brand-specific marketing data, allowing us to examine the relationship between the brand advertising to which youth are exposed and their brand-specific patterns of alcohol consumption.
In contrast to alcohol, the relationship between tobacco marketing and consumption by youth is now considered reasonably strong and consistent. Although the relationship between cigarette marketing and youth cigarette consumption was initially controversial, the development of a line of research on brand-specific cigarette advertising and brand-specific consumption demonstrated that youth were more likely to consume cigarette brands to which they had heavy advertising exposure (e.g., Camel cigarettes). These data had tremendous policy relevance and led to improved federal regulation of cigarette advertising.
Despite the compelling need for brand-specific alcohol consumption data among youth, researchers have not collected such data, assuming that it is impractical to obtain consumption information on each of the hundreds of alcohol brands currently on the market. In fact, our research team has developed, pilot-tested, and validated a novel, internet-based survey that has been successfully administered to a sample from an internet panel of nationally-representative underage youth.
The proposed project will build on the foundation provided by this pilot study. Specifically, this proposal will combine the youth-specific brand consumption data described above with state-of the-art alcohol advertising placement and audience composition data to provide the first comprehensive assessment of the relationship between brand-specific alcohol advertising and youth alcohol consumption. This research has important policy significance, as it will help inform efforts to monitor alcohol advertising and determine optimal policy interventions that could reduce youth drinking and its terrible consequences.
In short then, this grant seeks to answer three basic questions: (1) What alcohol brands are underage youth consuming? (2) To what alcohol brands' advertising are youth most exposed? and (3) What is the relationship between youths' brand-specific advertising exposure and brand-specific alcohol consumption patterns?
The proposed research will consist of three projects that correspond to each of the three specific aims. Project 1 consists of the first nationally-representative survey of brand-specific alcohol consumption among underage youth, which will be conducted using a new survey instrument administered to a national, pre-recruited youth internet panel. Project 2 involves the collection and analysis of data on brand-specific alcohol advertising in magazines and on television for the five-year period 2007-2011 to derive, for the first time, estimates of underage youth exposure to alcohol advertising in these media for each alcohol brand. Project 3 involves the combination of the data compiled in Projects #1 and #2 to investigate the relationship between the volume of advertising for different alcohol brands and the amount of consumption of these brands among underage youth.
This research will have important implications for alcohol research, policy, and practice as it will help the NIAAA to initiate a new line of alcohol brand research and will help to inform the development of more effective interventions to prevent youth alcohol use and its terrible consequences.
<center><span style="color: #ffffff;"><!-- [et_pb_line_break_holder] --><!-- [et_pb_line_break_holder] --><script type="text/javascript">copyright=new Date(); update=copyright.getFullYear();  document.write("This web site is supported by <strong>Grant 1R01AA020309-01</strong> from the <strong>National Institute on Alcoholism and Alcohol Abuse</strong>. <br><br>© 2014-"+ update + " A Joint Project Boston Univ School of Public Health and Johns Hopkins Bloomberg School of Public Health. <br>Michael Siegel, MD, MPH and David H. Jernigan, PhD, Principal Investigators. All rights reserved.");</script><!-- [et_pb_line_break_holder] --><br><br>Website designed and maintained by </span><b><a style="color: #fbf6f2;" href="http://answerquest.com/" target="_blank" >AnswerQuest.com</a></b></center></span>